Can We Eat Papaya At Night? Yes, you can eat papaya at night or anytime. Consuming Papaya at night, helps to avoid constipation as there are some laxatives present in it. However, fruits in general should be avoided at least 4-5 hours after meals.
Thus you should try and eat papaya 4 -5 hours after your meals. Papaya is considered as a low calorie juicy fruit which is rich in vitamin A, B and C, has other medicinal properties as well. Papaya has antioxidant properties which helps to improve the skin texture. Since Papaya is available throughout the year, it is a storehouse of nutrition and helps to solve your bowel problems.
Make Papaya a mandatory part of your daily consumption. In the long run, maintaining a healthy diet will help in boosting your physical immunity. One medium papaya has approximately 120 calories, 30 grams of carbohydrates, including 5 grams of Fiber, 18 grams of sugar, 2 grams of protein makes papaya good source of folate and magnesium.
Benefits Of Eating Papaya At Night
Infections can be taken care of by daily intake of papaya. It inhibits the growth of parasitic worms and expels them from the gastrointestinal tract. The juice of Papaya leaves helps in reducing dengue infection and in turn also helps in increasing your platelet count. Potassium, Fiber and Vitamins contained in papaya helps in smooth functioning of the heart which in turn controls
high blood pressure.
Papaya also heals wounds. Its antibacterial quality helps in healing of wounds thus further minimizing the spread of infections. Gum bleeding, plaque and gum inflammation can be reduced by applying medicines containing Papaya extract, on spaces around teeth.
We can use Papaya in the forms to treat various Ailments
Papaya Powder for ringworms.
Papaya fruit Pulp for swelling and skin infections.
Papaya peel Powder for skin whitening and exfoliation.
Milk of Raw Papaya for mouth ulcer.
Some Interesting trivia about Papaya
Can We Eat Papaya at night For Good Health?
Yes we can eat papaya for various health reasons.
Diarrhea – Yes, Papaya can be useful in managing diarrhea due to its anthelmintic property. It discourage the growth of intestinal parasites
Inflamation – Yes, Papaya might be useful in controlling inflammation. It hinders the activity of inflammatory chemicals like histamine and prostaglandins
Vision – As Papaya is rich in vitamin A and C. It is good for eyesight and can help in preventing early age blindness in children.
Hair – Papaya is good for removing excess oil from the scalp and gives healthy hair. It also helps in controlling dandruff.
Alternatives Fruits Likes to Papaya?
There are many fruits like papaya and they are also rich nutrient fruits like papaya. Some alternatives can be pineapple, mango, and peaches. As for green papaya you need something like, cucumber, shredded cabbage, or lotus root. There are many vegetables which provide vitamins and minerals to our body just like papaya.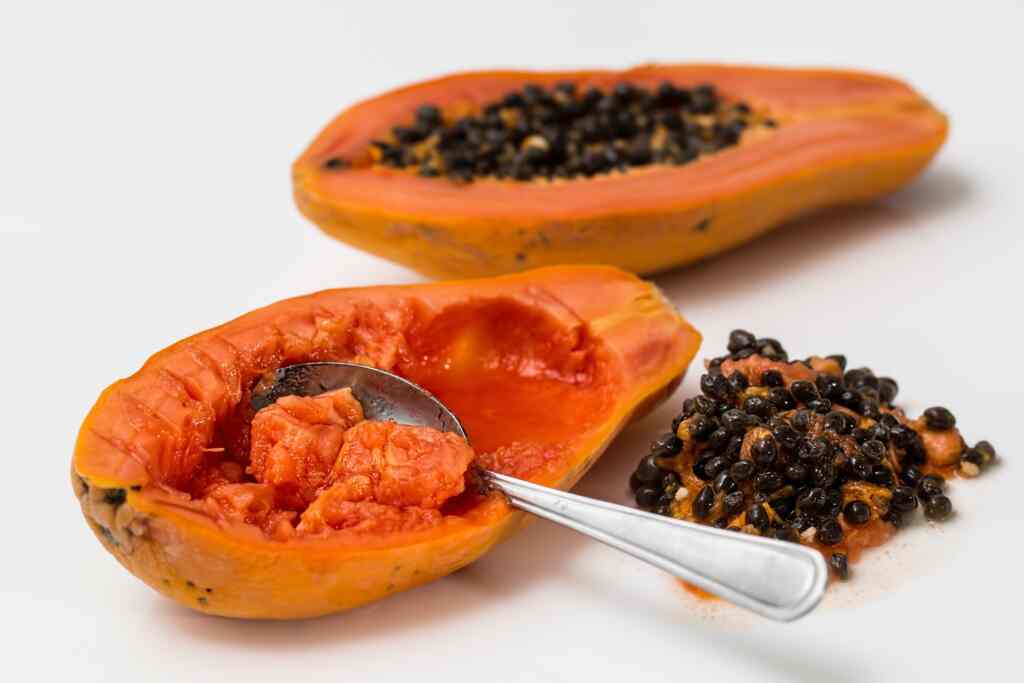 Availability of Canned Papaya?
Canned papaya is not easily available in India. If you guys like Canned Papaya then we go ahead. They're amazingly useful. You can also find dried, cubed papaya. If you can want, you can rehydrate them according to your requirements.
Can We Eat Papaya Anytime?
Consumption of papaya should be avoided by the people who are allergic to Latex. "If your sugar level is low then you should pay more attention before eating papaya." Excess quantity of papaya intake can result in a laxative effect and stomach irritation. The outcome of excess papaya intake varies from person to person.
When you eat papaya at night, it cleans your system. Plan your evening meal to get desired results of papaya. Eating papaya at night is a good idea rather than having it during the day. Papaya is advisable to eat on an empty stomach. Make it a part of your breakfast too. It flushes out toxins from your body thereby reducing the bad cholesterol. It has to be incorporated into your diet to get all it's health benefits. Papaya is the healthiest fruit to have. Papaya is an excellent source of Fiber, nutrients and minerals which are very important for your health.
It contains Fiber, as it maintains a healthy digestive system. In addition, due to its low glycemic index, it helps in controlling blood sugar levels too quickly. Papaya has no added sugar, which makes it a great choice for diabetics to cut back on their sugar intake. You can also make use of its natural sweetness as a sweetener in smoothies, sauces, soups and stews, or add it to baked goods to
add a little extra sweetness. Intake of Papaya on empty stomach makes your digestive system stronger thereby improving your immune system.
Papaya helps to burn fat , which helps in better absorption of the Protein and in turn build muscles, overall this helps in losing weight. So, all in all consumption of Papaya, that too at night is more desirable and effective than at any other time of the day.
Can We Eat Papaya During Pregnancy?
Yes, you can eat papaya during pregnancy but eat only ripe papaya and it is very good for our body. We should eat only ripe papaya in pregnancy, unripe and semi-ripe papaya can be harmful for you. If someone is not getting periods then you can eat papaya. Periods start coming regularly by eating papaya. Papaya is very hot, so by eating it, periods come properly. If you are already pregnant then you can eat papaya.
If you are trying to get pregnant then do not eat papaya at all, it can damage your pregnancy. Along with this, do not eat anything that is hot, it can also damage your pregnancy. You must to consult your doctor once before eating papaya during pregnancy. It is very important for you and your baby, so do not eat anything without consulting the doctor.
Related Posts